Once you've entered the calendar recipients names in the fields indicated, their names will automatically customize and personalize each entry. We provide a wealth of daily calendar entry options. Feel free to use or edit ours or completely create your own. Remember, the more you personalize it, the better your count down becomes!
MAKE IT PERSONAL
Personalize your daily entries to include the names of friends or family. For example, modify "Get a pedicure" to "Grab Joanie and go get pedicures." Include inside jokes and personal stories.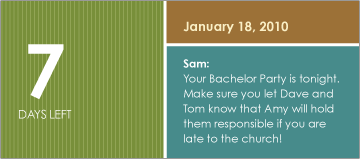 HIGHIGHT HOLIDAYS
When you are counting down to your date, keep in mind any holidays that may occur on the days leading up to the big day. Regardless of whether you are celebrating with a friend about to adopt, or dieting in preparation of a big cruise, it would be a shame not to take advantage of the symbolism or humor of Thanksgiving falling on one of your countdown days! (Can you say 'skip that second helping of stuffing if you want to fit into that bikini!'?)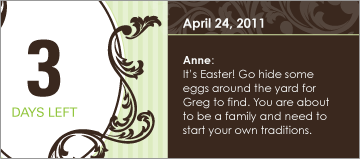 HAVE FUN
No Explaination needed, just do it..