Personalized Email Countdown
Email your countdown starting from $1.59
Countdown by days or weeks
Customize the specific day you want your emails to be sent
Send to 1-5000 email addresses
Social sharing capabilities
Start Creating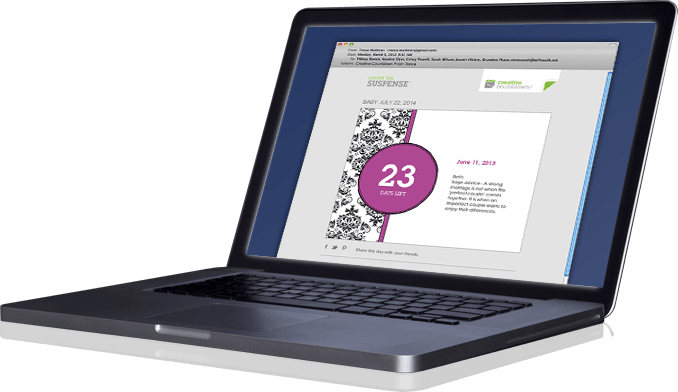 Savor the Suspense® with Creative Countdown's Personalized Email Countdown!
This virtual option allows you to countdown with a friend or a large group of individuals. It is a perfect way to communicate with wedding guests, family reunions, group vacations, fundraisers, or sales promotions.
We provide hundreds of quick-fill suggested entries for many popular events. Edit them or create your own. Just remember, the more personal you make it, the more memorable your countdown becomes!
As with our other countdown products, you can countdown days or weeks or select specific days. Social media sharing a big plus!
Pricing Structure:
The base starts at $1.59 for a 30 day/week countdown, sent to 1 email address. Additional days/weeks and email addresses can be added. You can delete pages to have less than 30 days or weeks in your countdown. The base price will still start at $1.59
How do we price additional days and email addresses?
$1.59 + (number of countdown days/weeks X number of emails address X $.02) = Final Price)
We offer a 20% discount for nonprofit organizations. We also offer discounts for bulk email address lists. For information, contact us at sales@creativecountdown.com.
Explore Creative Ideas
Product Details
Starting from $1.59
Starts at a 30 page countdown, including the event day (0 days left) that you can send to up to five email addresses
You can add or delete the number of days/weeks in your countdown (see pricing structure on the left).
You can countdown daily, weekly or select custom (non-consecutive) dates.
If you would like a custom design or a logo included, see our corporate page for more information. (info@creativecountdown.com)