Personalized Tear-Off Countdown
Starting from $19.95
Count down 30-400 days or weeks
The date, days left, and personalized message appears on each page
Calendar page dimensions 5" x 6"
White cardboard backing with attached easel stand
Start Creating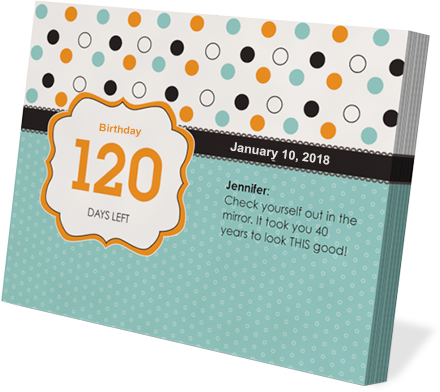 Savor the Suspense® with Creative Countdown's Personalized Tear-off Countdown!
This tear-off option allows you to build longer countdowns more economically, from 30 to 400 days or weeks. You'll find designs perfect for wedding, baby, graduation, and many of life's big moments.We provide hundreds of quick-fill suggested entries to get you started. Edit them or create your own.
Just remember, the more personal you make it, the more memorable your countdown becomes!
Explore Creative Ideas
Product Details
Starting from $19.95
A countdown that start at 50 will have 51 pages this includes the event day (0 days left)
Additional pages can be added for $.25 per page
400 page maximum will fit comfortably on tear-off pad
Comes on a white cardboard backing with attached white cardboard easel stand for desktop display
Calendar page dimensions 5" x 6"